Robert Louis Stevenson's Treasure Island – Regendered, is my latest Regendered novel. It's available from your favourite ebook retailers now. You can find their links at the bottom of this page. If you enjoy it and wanted to find out more about The Regendered Project be sure to signup to my newsletter. You'll also receive another regendered novel, absolutely FREE!
Wow, it's been a really long time since I last released a Regendered novel. Real life and other projects have conspired to keep me busy but I've continued chipping away at The Regender Project.
I've also made a major change and expanded the availability of all my regendered novels. You'll now be able to find them all on your favourite ebook retailers, including Amazon, Apple iBooks, Nook, Kobo, and many others. So, if you've been putting off purchasing one because you don't know a kindle, now's your chance to grab them!
Treasure Island is one of the greatest adventure novels. The idea of a young child finding a map to a fabulous treasure, and embarking on an expedition to find it, is one that resonates with everyone. It perhaps presents us with an overly romantic view of piracy but one we're all too ready to believe in.
I've always been particularly interested in regendering nautical novels. Even today, it's one of the most male dominated segments, but in the 19th century, it was exclusively so. Ironically, the illegal world of piracy allowed women to partake and achieve some semblance of equality. By regendering such novels, I hope to show how perfectly normal it is for woman to inhabit such spaces.
Authors Note: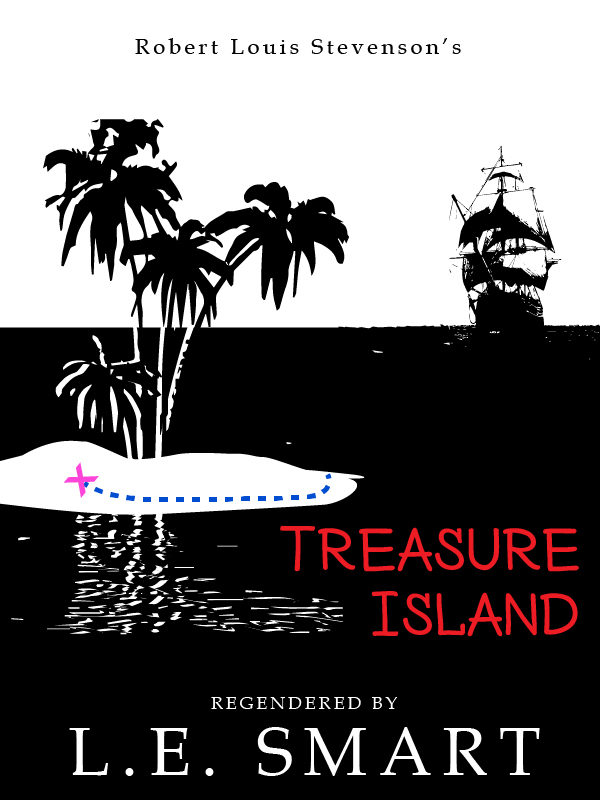 Robert Louis Stevenson's classic novel of treasure hunting on a remote island has been completely rewritten with all the characters regendered. Now follow Jill Hawkins as she's caught up in a voyage to treasure island, while avoiding the machinations of the suspicious Long Jane Silver.
Working in her parent's tavern, Jill Hawkins befriends an old sailor. When the sailors past confederates catch up with her, she leaves Jill with a map to a fabulous treasure. Enlisting the aid of two family friends, she puts embarks on a grand adventure to recovery the treasure.
More info →